Description
Thursday, December 28, 2017 – noon to four pm
The Winter Gardens at the World Trade Center
Registration $75- includes sketchbook, pen, pencil, and waterbrush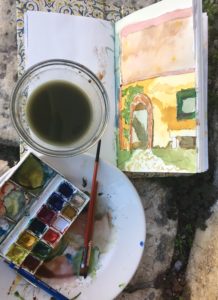 It is so simple. Observe your surroundings. Look until you see. Put pen to paper.
You are building the skills needed for a lifelong practice.
Art work is fundamentally a human creative response to our world. Sketch is a tool for honing your ability to observe the world and respond visually. Sketch will also ground your presence and attention in the here and the now.
Join Big Sur Artists, Erin Lee Gafill and Tom Birmingham for a 4-hour session. No matter your experience, you'll see that you already have the skills to fill your page with images that are satisfying. You'll also find that by beginning where you are, and building a sketch practice, you'll develop the skills you want to grow in your art making.
We'll start with introducing tools and concepts, follow with demonstration of technique, spend most of our time populating the page with observed drawings, then share our work in an informal critique.