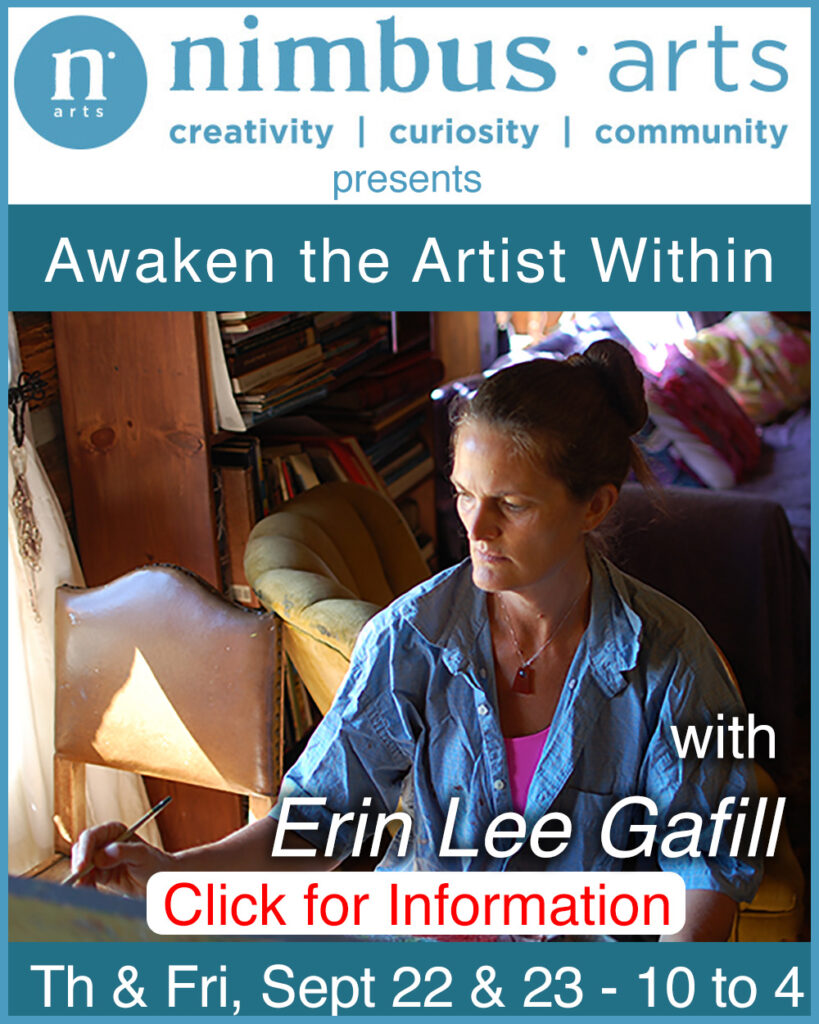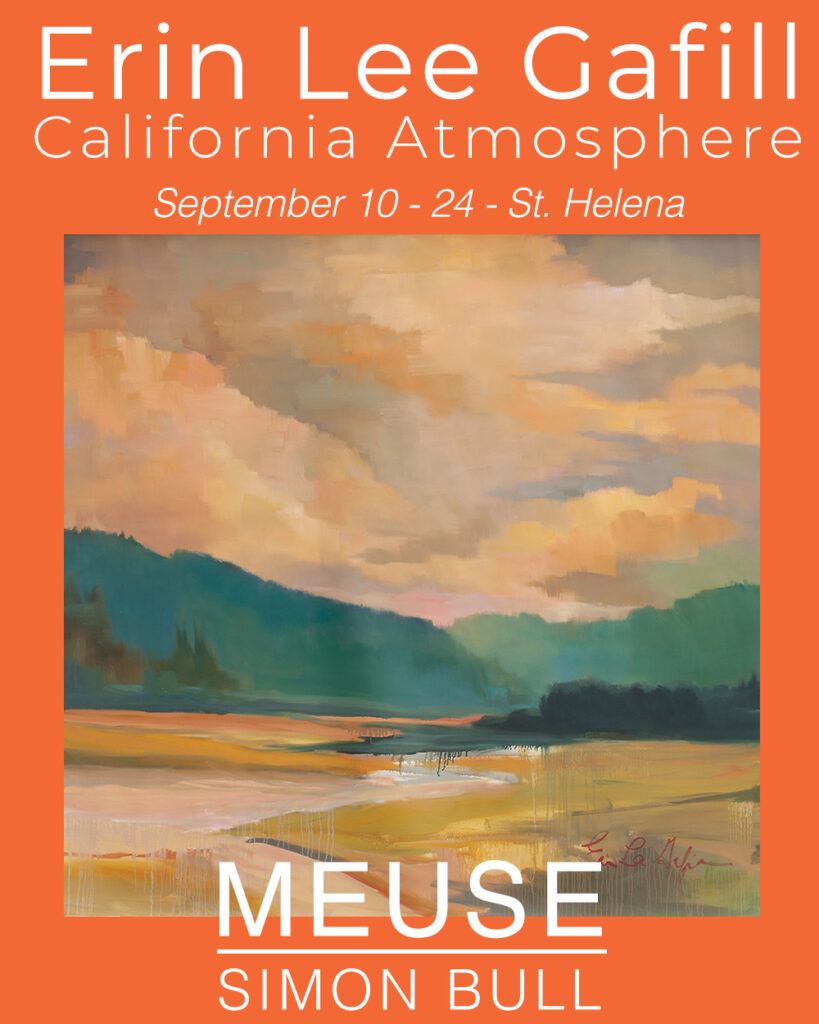 Artist's Statement
California Atmosphere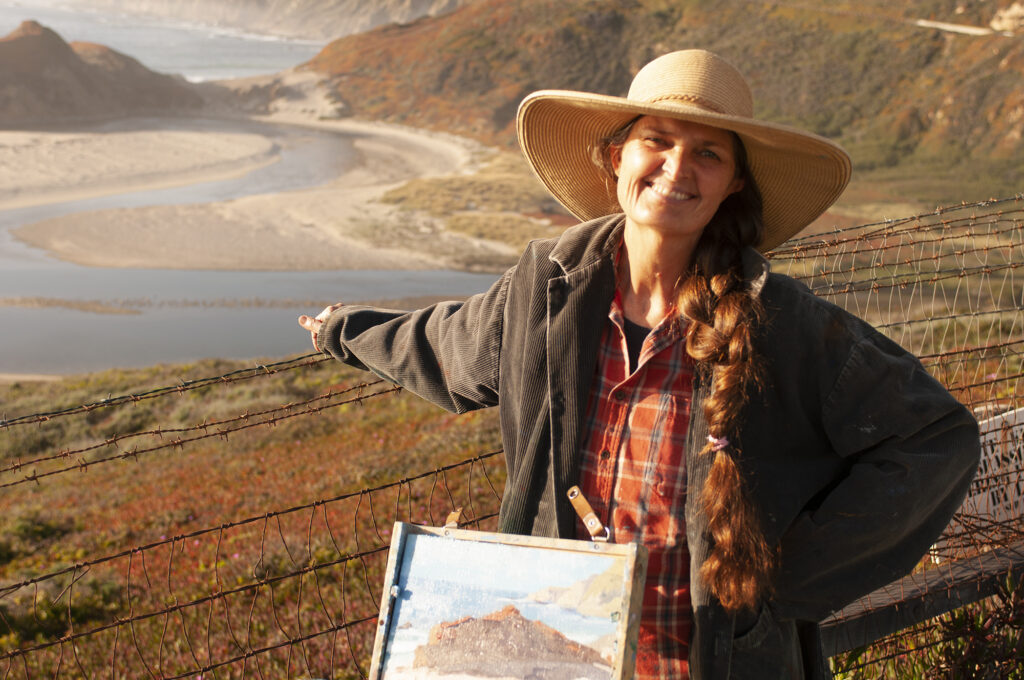 I paint what I see, and what I cannot see.
My work explores the transcendent grandeur of the natural world, abstracting from light, mass, and form in colorful washes of oil paint. These paintings are a reverent response to the interplay of Land, Sea, and Sky on the California coast.
I work intuitively, immersing myself in the physicality of the paint, allowing washes of color to drip, blend, spatter, and dissolve. As paint flows, ideas emerge. The act of painting becomes a kind of "call and response" with the canvas itself.
Each painting is an adventure and a discovery
Artist's Bio
Born in Big Sur, California in 1963, Erin Lee Gafill is an award-winning writer, painter, and teacher. She paints at her home adjacent to her family's restaurant, Nepenthe.
Gafill's work has recently been featured in two major museum exhibitions; California Atmosphere, a one woman show at the Morris Graves Museum of Art in Eureka, CA, 2022, and Color Duets – Kaffe Fassett | Erin Lee Gafill, an exhibition of paired works in paint and textiles with her uncle, internationally renowned designer, Kaffe Fassett, at the Monterey Museum of Art, Monterey, CA., (2021).
For almost 30 years, Gafill has taught arts and creativity programs to children and adults up and down California's central coast. She co-founded the nonprofit arts education organization Big Sur Arts Initiative in 1998 to provide arts and cultural opportunities to local children and their families.
In 2001, Gafill served as the first American artist-in-residence of the Hamada International Children's Art Museum, Hamada, Japan.
In 2009, the artist and her husband Tom Birmingham were honored by the Arts Council for Monterey County as "Champions of the Arts" for their service to the community through the arts.
In 2010 the couple launched a nationwide arts education tour visiting 17 cities over 9 weeks. They staged art shows, held workshops, and taught free art programs to children and their families.
In 2020, they created a series of free weekly creativity programs online (Awaken The Artist Within) to connect people far and wide during the early days of the pandemic.
Gafill credits her deep familial roots in the arts for her on-going work today. Her maternal grandparents Lolly and Bill Fassett built Big Sur's famed Nepenthe Restaurant, a mecca for artist, poets, writers, and bohemians since opening day in 1949. Her great-great-grandmother was Jane Gallatin Powers, a Modernist painter who had the first artist's studio in Carmel. Her great great grandfather Frank Powers is credited with co-founding the art colony, Carmel-by-the-Sea, whose values of art, creativity, and bohemian spirit live on to this day.
Erin Lee Gafill is the author of the inspirational memoir "Drinking From a Cold Spring, a Little Book of Hope" and "Color Duets," a coffee table book that serves as the companion catalog to her Monterey Museum of Art 2021 exhibition.
Saturday, September 10
1 – 3 pm – Painting Demo – Attacking the oversized canvas – Erin Lee Gafill
4 – 6 pm – Opening Reception, meet the artists (Lindy Novack, pouring Spottswoode Wines)
Saturday, September 24
noon – Gallery Talk with Erin
Two-day Creative Immersion at NimbusArts, 649 Main Street, St Helena – registration – $350 + $50 materials fee
September 22 & 23 – 10 to 4 – Register Now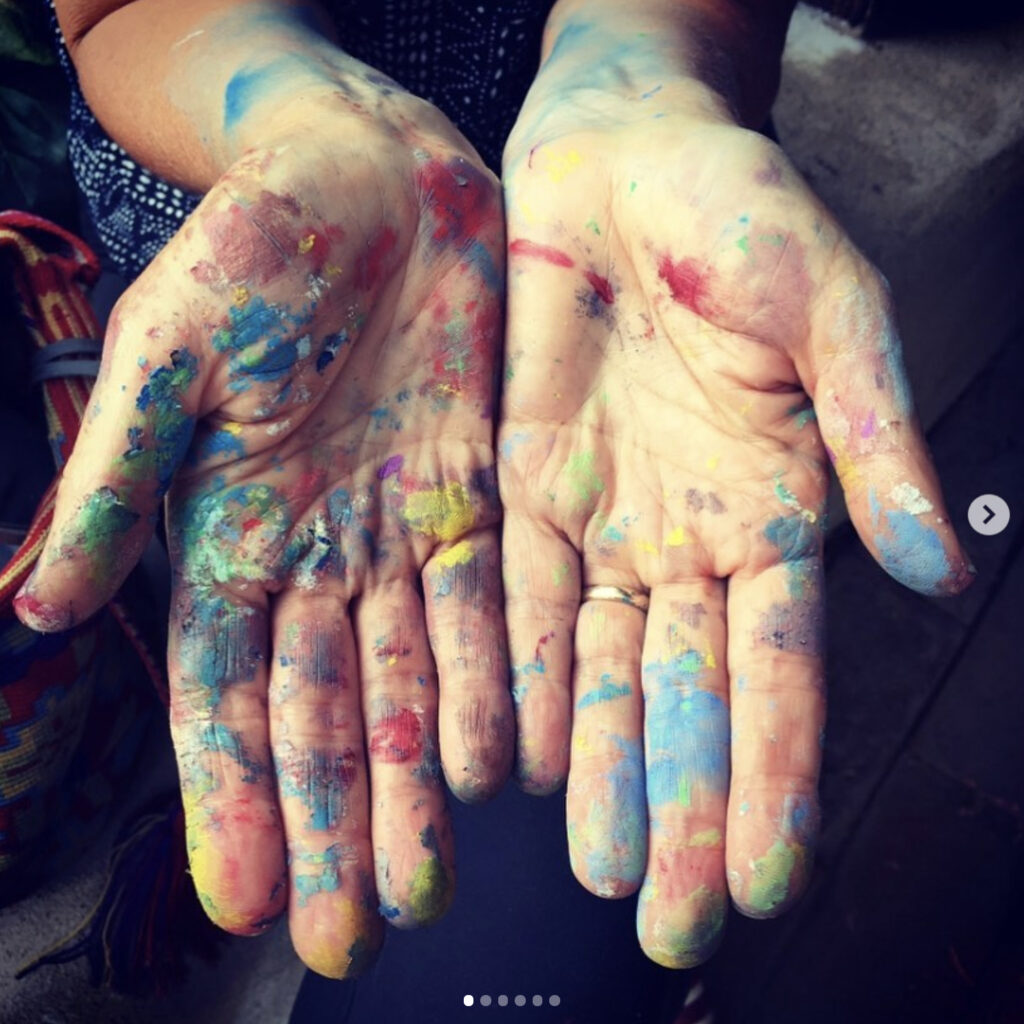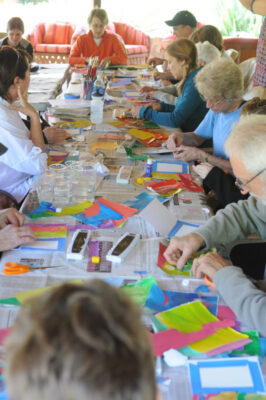 Tapping the Source – During this jam-packed, two-day workshop you will explore a variety of mediums and techniques to find entry into creative expression. Together we will explore elements of design including line, proportion, texture, value, contrast, color, and more. Whether you are a seasoned professional in the arts, or you've never picked up a paintbrush, these two days will awaken your artist within and help you to make peace with your inner critic.
While this workshop will use and demonstrate a variety of techniques, its primary intention is to help you to find your own creative voice and break down blocks that inhibit a personal creative practice. If you have any questions, feel free to contact Erin or Tom – erinleegafill@yahoo.com – tom@bigsurarts.com.
The only thing you need for this workshop is a desire to find your own creative expression. For those who already have a creative practice, this workshop offers a jumpstart of inspiration and possibly a new path forward. If you have never found a way into the creative arts, but you've always wanted to try, this is a great place to start.
Provided Supplies – We provide all essential materials including acrylic paints, watercolors, paint brushes, fast writing pens, collage materials, sketchbook and painting surfaces – basically everything you need to participate fully in each exercise. Feel free to bring your favorite pens, brushes, or other artmaking supplies.