November 2019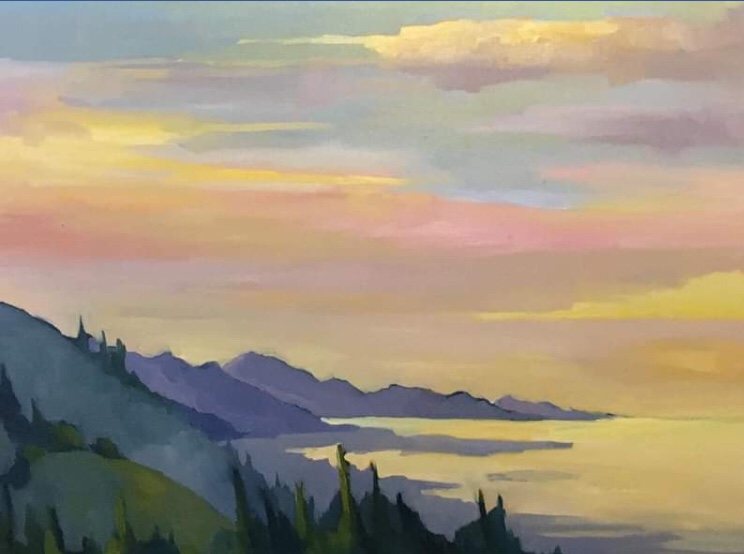 Today I was up early, hoping to paint the view looking south from Nepenthe.
Alas, Fog!
As the fog rolls in, sweeping across redwood trees and into deep canyons, the sun rises above the Santa Lucia Mountains, infusing the atmosphere with golden light.
Instead of painting, I'm packing up for my next workshops and art shows. A busy season lies ahead!
November 9-16 Awaken the Artist Within at Rancho La Puerta Book your stay!
November 16-23 Stitch 'N Bitch at Rancho La Puerta Book Your Stay!
Saturday December 7, I open a new show of both landscape and still life's at Ariodante Gallery on Julia Street, in New Orleans. I've been working with these good folks for almost ten years now – so delighted to be invited back. AND to have Tom showing his watercolors as well, in the lagniappe room!
Friday January 3, I'll be back at River Gallery in Chattanooga Tennessee. River Gallery
Thursday May 7 "Still Life: Three Ways", at the Carmel Art Association, Carmel, California. New works from me, Mark Farina, and Gerard Martin. I'm honored to be in their good company, and inspired to paint! The opening is on Saturday, May 9, 2020, 5-7pm. Carmel Art Association
Thursday, May 14, 2020, we open Color Duet, a Stolen Week- a two person show of paintings and textiles and much more with me and my uncle Kaffe Fassett. At the Monterey Museum of Art through August 23.