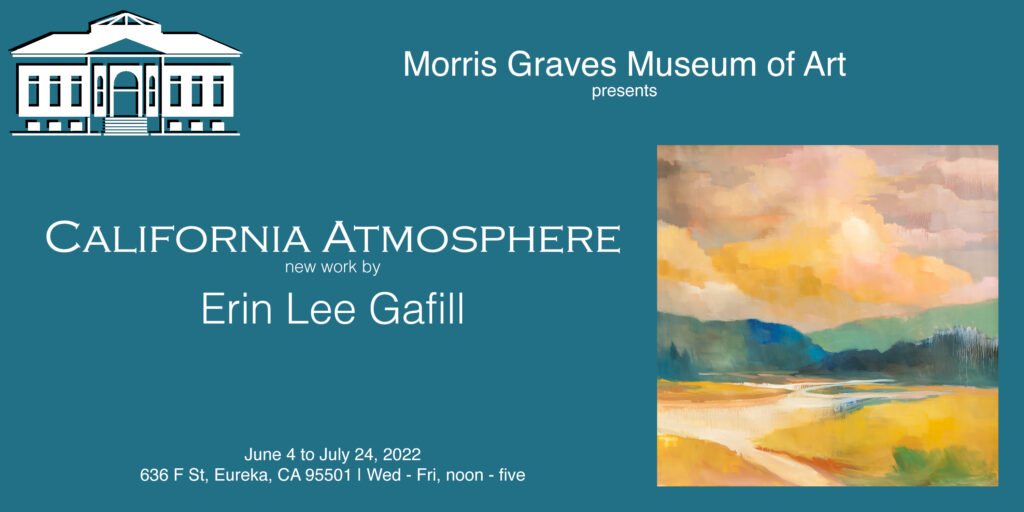 Show Description
Erin Lee Gafill's fascination with the atmospheric light and color of the California Coast is explored here in work that draws from observation, but ultimately relies on a kind of intuitive sense and ecstatic expression. Thin layers of monochrome paint dissolve one over another in some tonal pieces, while others retain exuberant technicolor drips conveying process and discovery.
The show centers on large un-stretched canvases that were created during a winter residency in Gualala and at The Sea Ranch in February, 2022. They are presented here un-stretched to express their creation process, still existing in the liminal space between idea and finished object.
The exhibition also includes small observed studies painted on location from Big Sur to Trinidad. The larger studio works responds to that observational work, a kind of call and response of visual and spiritual inspiration.
Artist's Bio
A fifth generation California artist, Erin is the recipient of the Jennifer Hill Prize from the Carmel Plein Air Festival, and has been named Best Local Artist three times by the Monterey County Weekly. In 2001, she was honored as the first American artist-in-residence at the Hamada International Children's Museum of Art in Hamada, Japan. In 2008, she was named Champion of the Arts by the Arts Council for Monterey.
She is the founder of the nonprofit arts education organization,The Big Sur Arts Initiative, creating award-winning programming serving the Big Sur Coast and garnering recognition from the Turner Foundation, the Packard Foundation, First Night Monterey and the Arts Council for Monterey County. She is a founding member of the Monterey Bay Plein Air Painters Association (MBPAPA), and an artist member of the Carmel Art Association.
In 2021, her still life painting was featured in the Monterey Museum of Art's summer exhibition "Color Duets – Kaffe Fassett and Erin Lee Gafill". Erin is the author of two books, Drinking from a Cold Spring, A Little Book of Hope and Color Duets.
Plein Air Work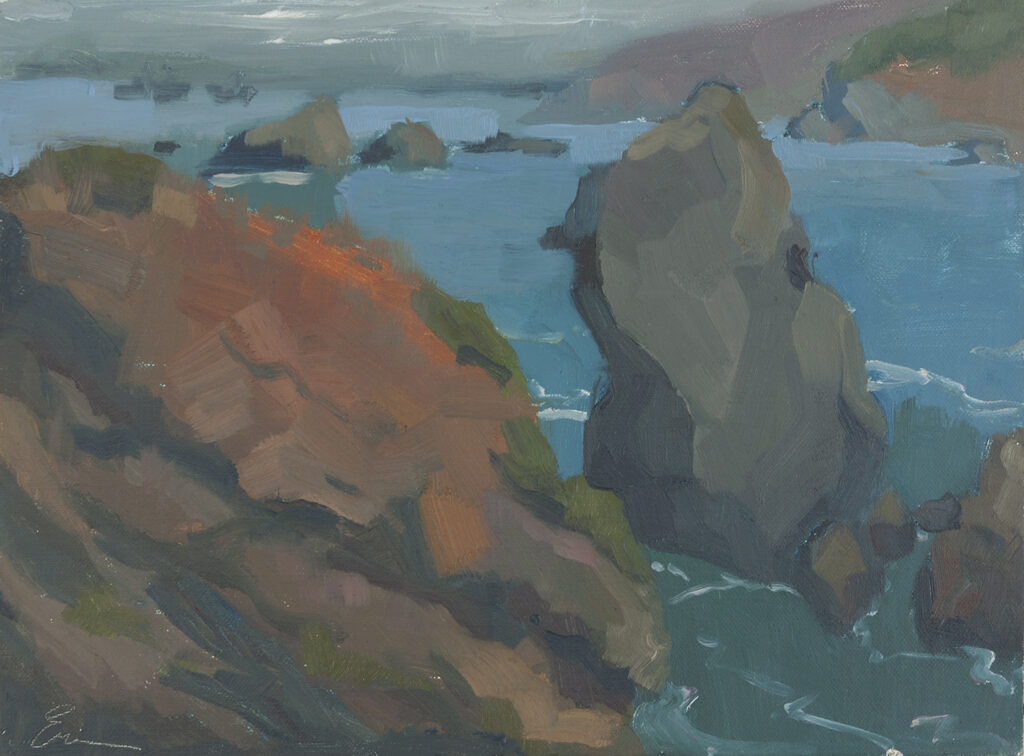 Awaken the Artist Within (return to top)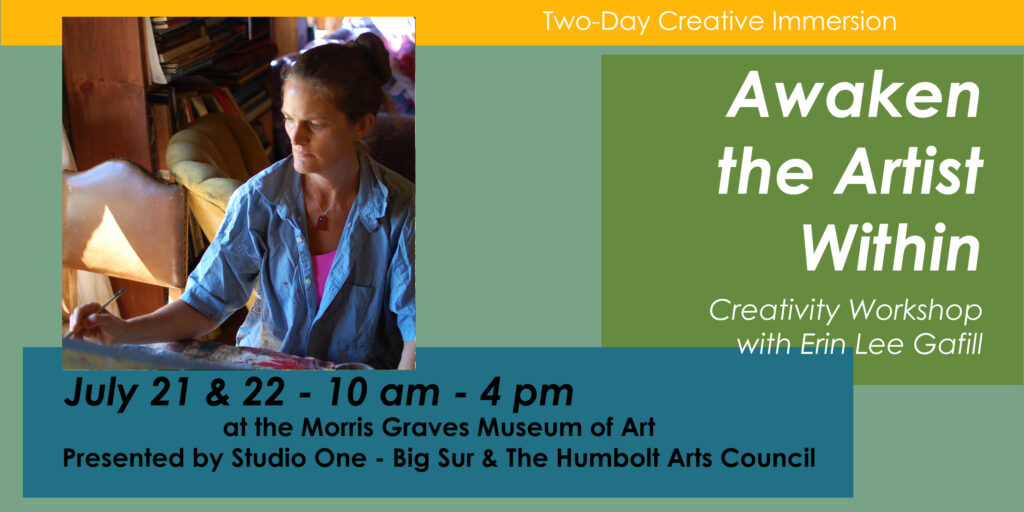 Two-day Creative Immersion – registration – $350 + $50 materials fee (HAC members – $300 + $50 materials fee)
July 21 &22 – 10 to 4 – Register Now
Tapping the Source – During this jam-packed, two-day workshop you will explore a variety of mediums and techniques to find entry into creative expression. Together we will explore elements of design including line, proportion, texture, value, contrast, color, and more. Whether you are a seasoned professional in the arts, or you've never picked up a paintbrush, these two days will awaken your artist within and help you to make peace with your inner critic.
While this workshop will use and demonstrate a variety of techniques, its primary intention is to help you to find your own creative voice and break down blocks that inhibit a personal creative practice. If you have any questions, feel free to contact Erin or Tom – erinleegafill@yahoo.com – tom@bigsurarts.com.
The only thing you need for this workshop is a desire to find your own creative expression. For those who already have a creative practice, this workshop offers a jumpstart of inspiration and possibly a new path forward. If you have never found a way into the creative arts, but you've always wanted to try, this is a great place to start.
Provided Supplies – We provide all essential materials including acrylic paints, watercolors, paint brushes, fast writing pens, collage materials, sketchbook and painting surfaces – basically everything you need to participate fully in each exercise. Feel free to bring your favorite pens, brushes, or other artmaking supplies.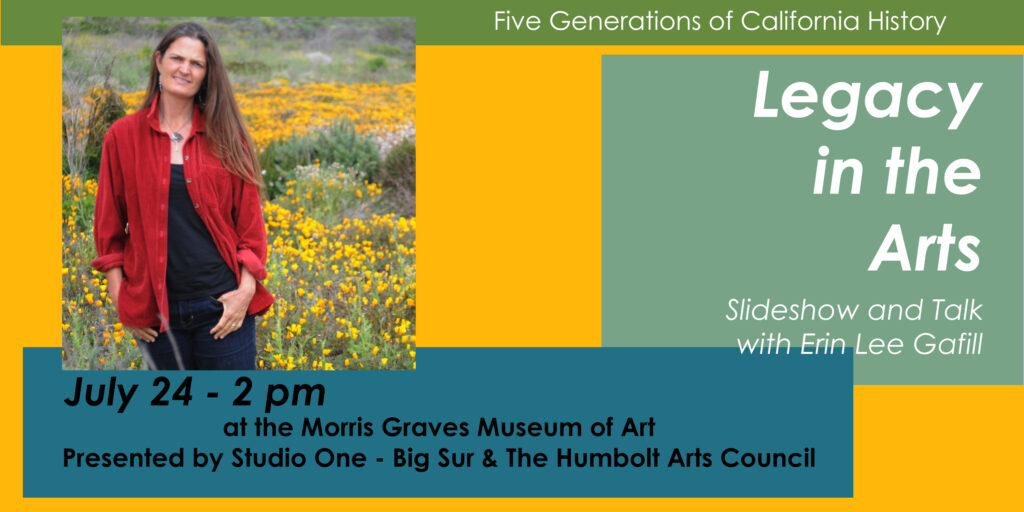 Sunday Art Talk – Morris Graves Museum
July 24 – 2 PM – FREE – Pre-registration Recommended
Erin Lee Gafill is a fifth generation California artist and granddaughter of the founders of Nepenthe Restaurant, in Big Sur and is an artist-member of the Carmel Art Association. Her color-rich oil paintings are exhibited nationally, including several museum shows.Her most recent museum exhibit "Color Duets – Kaffe Fassett and Erin Lee Gafill" with her uncle, internationally renowned designer Kaffe Fassett, was the Monterey Museum of Art's featured summer show. Currently, Gafill's work is featured at The Sea Ranch Lodge and is represented locally by LyndonDesign Gallery.During her month-long art residency in The Sea Ranch as a guest of The Sea Ranch Lodge, she and her husband Tom Birmingham have organized weekly free community offerings including plein aire paint-outs, Make and Mend textile gatherings, and on-line creativity
sessions with Peggy's Place on KGUA 88.3 FM.In the February slideshow/talk, Gafill will share stories about growing up in Big Sur in the 60's and 70's, her encounters with the likes of writers Henry Miller, artists Emile Norman and Edmund Kara, and some of the Hollywood elite of the day including Richard Burton, Elizabeth
Taylor, and Kim Novak.Gafill will present almost 100 images tracing her lineage in the arts back to her great great-grandmother artist Jane Gallatin Powers, one of the founders of Carmel-by-the-Sea and the first artist to have a studio there. Powers won prizes for her plein aire work but found her
artistic voice in European Modernism. It was the discovery of these forgotten paintings in a basement in Carmel almost 40 years after Powers's death that ignited Gafill's own interest in painting.The artist will also share her experiences of over a decade of painting retreats in Big Sur with her uncle Kaffe Fassett, the lessons she has gleaned from those special contemplative sessions, and how she weaves the threads of her creative and artistic family legacy into her teaching and community work.Gafill will also share images of new works she has created during her time here for her upcoming summer exhibition at the Morris Graves Museum in Eureka.
Cold Spring Creativity Series (return to top)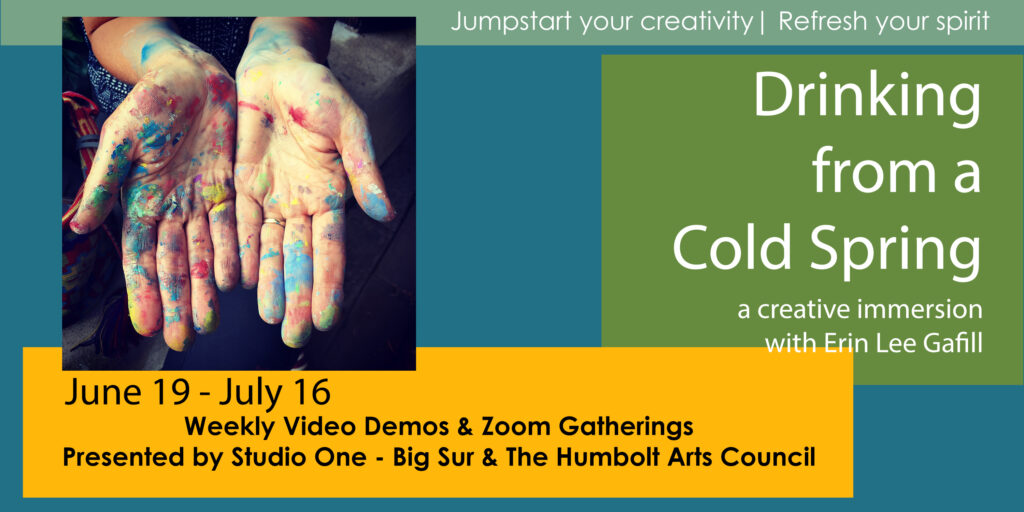 Online Zoom Gatherings – FREE – registration required
Saturdays, 10 am – June 19 to July 16
This is not your everyday painting class.
This is an opportunity to try new creative practices in a supportive community and find your personal voice. What's the Drinking from a Cold Spring creative immersion series all about?
This video will give you an idea –
There is a current of energy that exists within us.
When I connect to it, I'm transported by a much bigger energy than my own.
I no longer care if the work is "perfect".
I don't worry about technique, how it looks, or how it makes ME look.
I feel the energy.
I feel the power.
I feel alive in a bigger way than in any other space in my life, and nothing matters except sharing in the current.
When this state passes, it is my daily pursuit to reconnect with it.
Every daily habit or decision is a way back to this energetic river, this "river of joy".
This is the work of our program, tapping the current.