It's not for sale.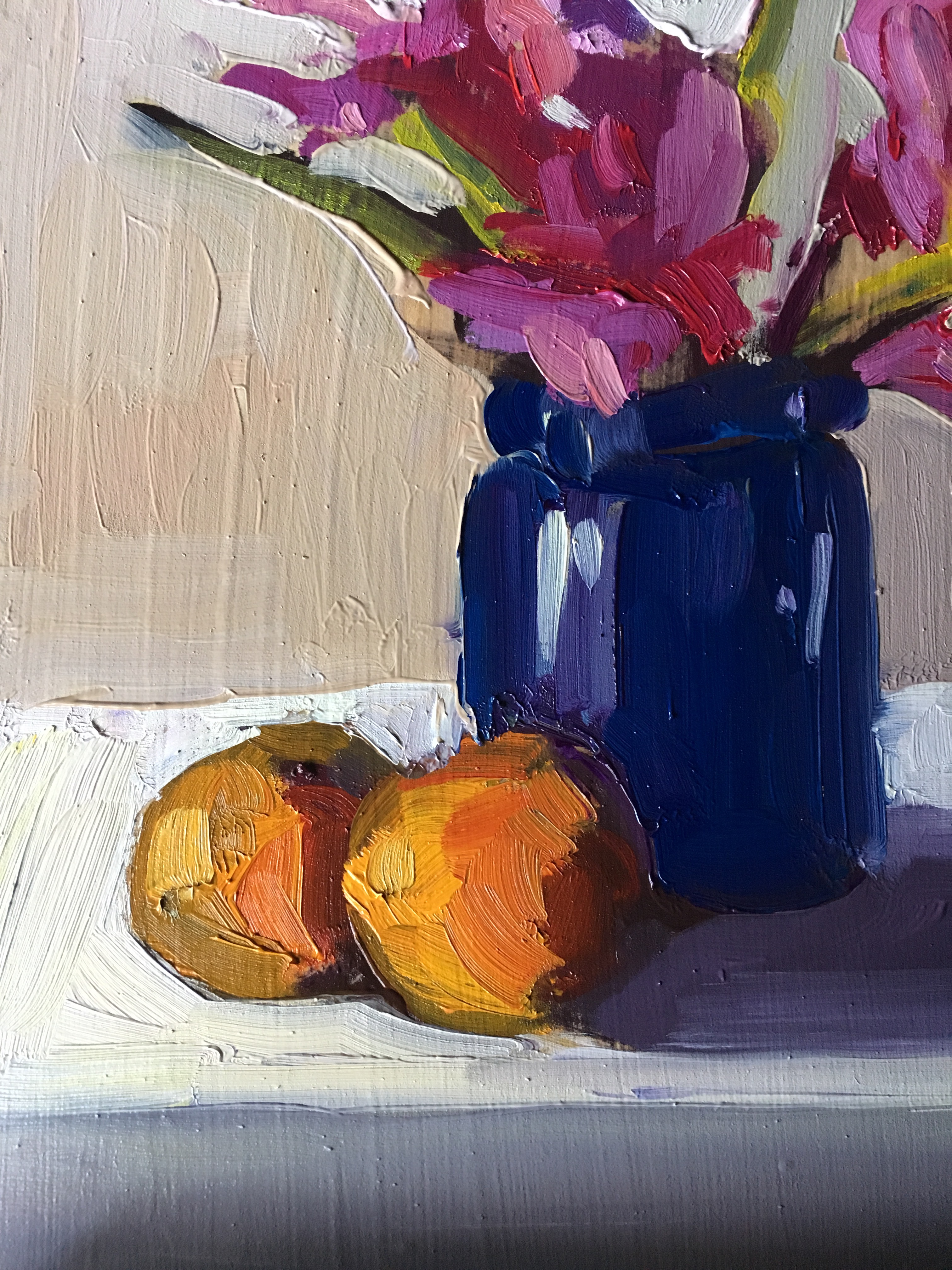 Why not?
Here's why.
Sometimes you're working on something and you make a discovery but you don't know exactly what the discovery is. In other words, the outcome is pleasing but you don't know how you got there, or what the elements of your successful execution were. Or why, exactly, this works when something very similar doesn't.
This painting is one such example of this experience. I am holding on to it because I think it has something to teach me. I will hold onto it until I think I've gotten the message.
With still life paintings, I think a lot about the relationship of the rectangles – background, foreground, middle ground – and the values – the relationship of light and dark. And color – pure shots of gorgeous color, chroma vs. neutral, shades of gray.
But today the aspect I keep thinking of temperature. The painting shifted for me when I repainted the background in a warmer neutral than I'd had before. That change, moving from a cooler gray to this warmer "pancake" neutral, was a "bingo!" moment.
It caused me to reexamine all of the other paintings in this series.
It caused me to reflect on the concept of painting relationships between things vs. the things themselves.
Broken Gladiolus, Cobalt Blue Jar, Tangerines is one in a series of "teachers" I'll be showing at my Holiday Open House Friday and Saturday November 23 and 24.
Sketches, paintings, photographs, books prints and cards will be for sale, but the "teachers" will be on display in my special cabinet where I keep them to look at from time to time and to reflect on their lessons.
Interested in what they might have to teach you? Come by! We can have a conversation!
Does this concept resonate with you? If you are a "maker" are there things you make that you consider your teachers as well? Please share and comment below!
Blessings!
Erin