Monterey Museum of Art May 14-August 23, 2020
Influences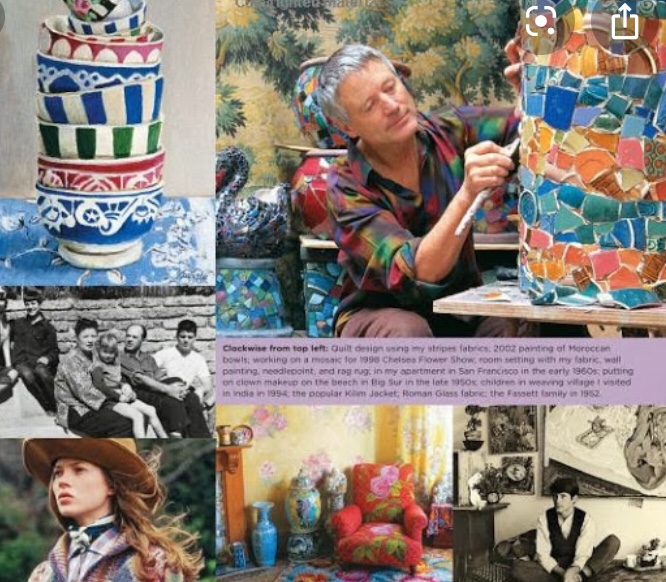 When I was a child I remember my uncle Kaffe returning from his travels, hanging a bedsheet from the rafters of Nepenthe and projecting slides of his knitwear to the collective gasps of the audience – dinner guests, employees, and family members all.
In my twenties, I stole two weeks away from work and motherhood to shadow Kaffe in his London studio, knitting, embroidering, writing, and painting little watercolors in my travel journal.
In 1993, I made my way back to England to see the Northern Ballet perform in Bath with Kaffe's folkloric costumes and Odilon Redon inspired backdrop. I couldn't help thinking about my grandmother Lolly (Kaffe's mother) and how much she would have loved to have seen this.
A few years later I wrangled an invitation to the Chelsea Flower Show in London to assist in Kaffe's madly creative garden design for Hilliers Garden Center. He set me to work mosaicking a wall between the black and white worlds he was creating. On one side he created a deep palette of jeweled tones, using black coal as a lattice work between the flowers, while on the other side he concocted a diaphanous shell grotto in the palest of hues. Again, it was an immersion in creativity, inspiration, industry, and self-expression. This time, his audience was the world at large, with none other than Martha Stewart stopping by to compliment his work. Hillier's took the gold medal that year.
In 2000, I traveled with my family to Stratford-on-Avon to see the curtain go up on Kaffe's sets and costumes in the Royal Shakespeare Company's production of "As You Like It." By the time it made its London debut, Kaffe's dreamy sets had been stripped down to a white box, but we got to see the show in all its glory – the Forest of Arden interpreted in needlepoint, knitting, patchwork, and Elizabethan whimsy. As an artist, it was instructive to me to see the show as Kaffe had designed it before the critics had their way. It was glorious.
The morning after the preview, I watched him repaint the huge candy colored clouds to amp up the drama in order to make the clouds read better from the cheap seats. Watching him hard at work in this collaborative setting was thrilling and instructive, and I felt immensely proud of him. We were a long way from my grandmother's living room in Big Sur.
And yet the seeds surely had been planted there in that very living room. Lolly – my grandmother, Kaffe's mother – had introduced both of us to the "old" world through her own deep-seated love of the beautiful and the antique, her appreciation of textiles, and her own family stories that verged on the Shakespearean.
Born in 1911, Lolly was reared in a blue-blood San Francisco family with roots in the California Gold Rush, the San Francisco art scene, and the artist colony Carmel-by-the-Sea. When the Stock Market Crash and Great Depression knocked the legs out from under the family's finances, Lolly was sent off to Europe to live with her grandmother, Jane Gallatin Powers. Jane, a socialite, heiress, and award-winning painter was dubbed the "artist-grandmother" by French critics and gave Lolly quite the spin through Europe. Their travels infused Italian and French culture into the sunny California girl along with an appreciation for the decorative arts and a taste for "la dolce vita."
Lolly returned to San Francisco in 1935, and married the boy next door, Bill Fassett. With their five children assisting, from ditch-digging to making adobe bricks, they built Nepenthe, a restaurant designed by Lolly, Bill, and Rowan Maiden, an acolyte of Frank Lloyd Weight. An instant success, the "hamburger joint" as my grandfather liked to call it became the must-see place for tourists, and the local's go-to for a drink after a long day's work.
In Big Sur, it's Nepenthe

Bill Fassett
Nepenthe – and it's extraordinary, eclectic, and creative milieu – influenced both Kaffe and my deeply, as it was his home during most of his teens, and where I grew up in the 60's and 70's.
And of course Big Sur itself, with it's vast open spaces, dramatic coastline, and wild winter storms, and its penetrating beauty.
These are a few of the influences that we have both felt, and that one will find in our work. The objects, the textiles, yes, but also the value that we learned from a young age of the importance of creativity and the pursuit of beauty.
In our upcoming 2020 exhibition at the Monterey Museum of Art, the paintings we do together will live within the context of all of this and more. The story we are telling is one of process as much as product.