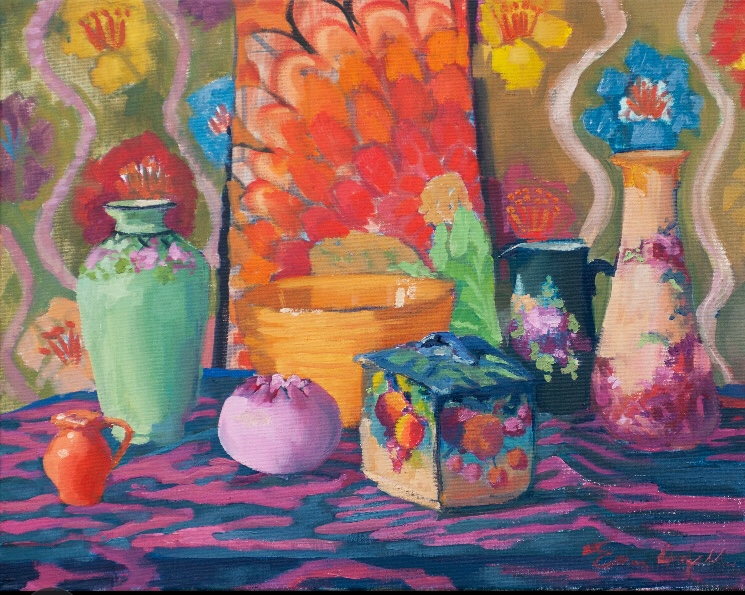 How do we paint together?
Kaffe lives in London, I live in Big Sur.
He works in acrylic, I work in oil.
He is a textile designer, I am a fine art painter.
We come together around color, and we find all the color we could want in the still life.
In my mother's house in Big Sur, we pull out boxes of objects saved over the years.
Polka dot ice cream bowls, sherbet hued vases, plastic fruit, stacks of patterned remnants handed down from my grandmother, or picked up at flea markets in our travels.
We start in the morning, a cup of strong coffee in hand.
We work small, usually on 11″x14″ stretched canvas to get started.
Kaffe sets up an array of objects and tucks his easel (borrowed from my mom) up close. At first, we paint side by side. This is because – in the first few days – I want to see how he thinks, and watch how he paints.
I usually paint my canvas with a warm undertone first, knocking out all the white.
Kaffe, in the other hand, works directly on the white, in a technique more similar to watercolor, with thin layers of color, and rarely any texture.
He mixes his colors with a small brush on a plastic yogurt lid. Often in a thinned pale yellow, he establishes his composition by starting with a outline of the objects. If he needs to adjust his drawing, he changes the outlining color to avoid confusion.
He continues to paint with a small rounded brush, starting light in value and going deeper and darker.
My approach is the opposite – dark to light – as I was taught so many years ago. He is always trying to push me lighter and into greater luminosity.
Typically, we finish a painting in two hours, and go on to try again right away.
Initially we start with a big jumble of objects, carefully arranged. As the days go in, each of us intuitively moves away from that, sometimes ditching the patterned backdrop for the simplicity of the cool gray card table – or choosing just one or two lemons and placing them against an extravagantly patterned tapestry in similar tones.
Whether working in neutrals or in rich and complicated jewel tones – or in a symphony of pastels – or the juxtaposition of chroma against neutral – it is the moment when the colors begin to sing to one another that we both look for.
The paintings go up on the mantel. We make another cup of coffee and observe them from a distance, noting how they read.
If he has signed his, then there's nothing to be said. It is done.
If not, we chat about what might like a little tweak.
As the afternoon draws on, Kaffe heads off for a nap and I go home to pick up the threads of my own life – ready to return the next morning and try again.
Too soon, the week is done.
My own work is altered afterward, for quite awhile. I am more attuned to the nuances of color, differences in color temperature, and the possibilities of pattern. Eventually, my own predilection for shadows and strong form reassert itself – I am back to painting "me" again, but somehow different.