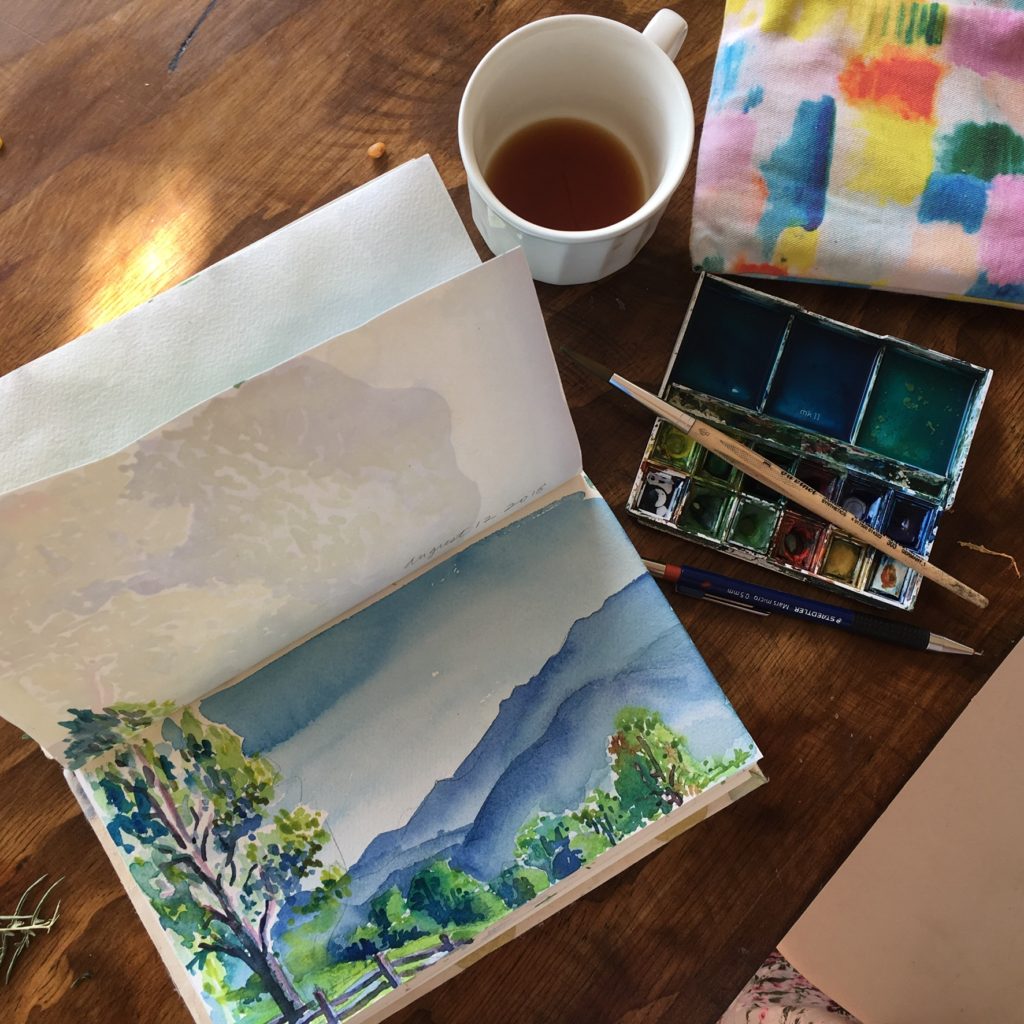 Here's a link to all the materials I recommend for our upcoming Italy trip, in one place:
Traveling and Sketching with Watercolor
Too much stuff, and you might be discourage from painting at all.
Too little, and you may never begin!
Here's what you need, and why! Here's the complete list, which I've attached again at the bottom of this post. You can also click here to see the 'must-go' places in Florence that may ignite your artistic side and get your art supplies working.
I've posted brands I've used and like, are economical, and available, with some explanation of why I am choosing what I'm choosing.
Watercolor Kit:
I recommend the Winsor Newton Compact Set for a few reasons. Lots of color mixing space in a great portable size, with enough color choices, and high quality pigments. AND it includes a nice little water color brush! I prefer this set to the more expensive Winsor Newton Field Kit that contains a water tank and water cup, as I find I rarely use the tank, the tank and cap add weight and bulk, and the design slows me down when I'm setting up. You can save some money by choosing the Winsor Newton Cotman brand, which has student grade pigments. But I prefer using Artist or Professional grade paints whenever I can find them over the Student grades, as the quality of your pigments are what your paintings live or die by. If no reputable art store near you offers these colors, you can always use a site like Amazon to have them delivered to wherever you are. There's most likely an amazon coupon code out there too that you can use to save some money, which you can then put towards more art supplies if you wanted to. Either way, the pigments come in dry "half pans" and you can replace the colors individually as needed. So if you use a lot of Cadmium Yellow Light, but not a lot of Burnt Sienna, you can simply buy extra pans of Cadmium Yellow Light when you run low. You an also refill empty colors with colors from the tube, just let the paint harden for a few days before shutting your paint box to avoid mess. Extra Half Pans and Tube Paints are available from fine art stores and Blick.com.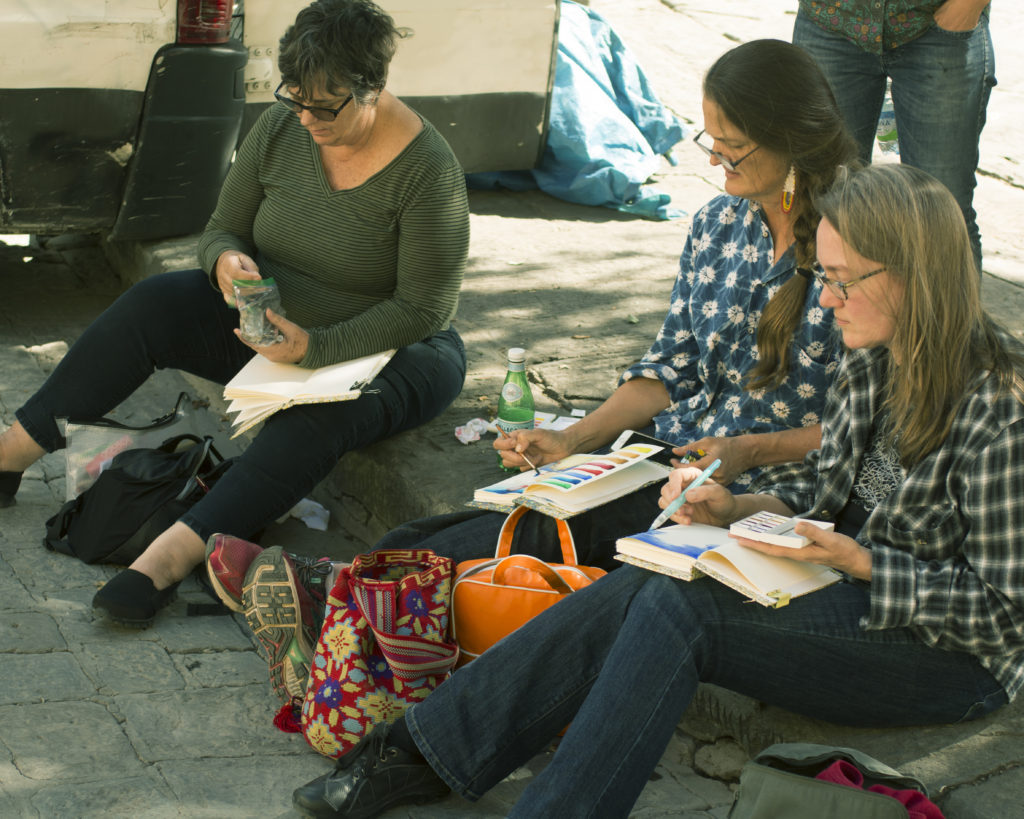 The Sketchbook:
I recommend the Strathmore 400 Watercolor Sketchbook, 9 1'2″ x 7 3'4″, for $15.99. The size is good, portable but ample enough to tackle most subjects, and the paper is cold press #140 weight acid free watercolor paper, strong enough to take pencil and pen, erasures, and many washes of water color, ink or goauche. To save money you might opt for a Sketchbook that has sketch paper instead, good enough for pencil and pen work, and then tape into the pages small rectangles of good quality watercolor paper, which you can buy in sheets and break down to size. This is an approach I've used often when I plan on doing more journaling or drawing than painting, but want the good paper when I need it. I recommend traveling with removable painter's tape to attach watercolor squares where need, for easy portage and flexibility of placement.
The Pen:
I often find myself using a fine Sharpie Pen (waterproof) or roller pen, and am quite happy using any kind of fast-flowing waterproof ink pen. But if you need a pen for this trip, here's one that gets great reviews and will should see you through several months of happy sketching. The Prismacolor Fine Line Pen, .005, comes in various colors, is water resistant, and gets high marks from illustrators, mandala makers, and fine artists. It also comes in a Super Fine Line, but Fine is good enough for me. On days when I'm doing fast sketch with watercolor washes (10 minutes at the bus stop, 20 minutes waiting to get into the Coliseum) or continuous line sketch, "taking the line for a walk" as Paul Klee said, a fine line fast flowing pen will serve you in good stead. It is also the the type of pen I prefer for doing my "morning pages" – free-form flow of consciousness writing I do most mornings before I get out of bed to get the creative juices flowing.
The Pencil:
There is absolutely nothing wrong with a yellow Ticonderoga #2 pencil and little pencil sharpener for doing great watercolor sketches! You've probably already got one or two of those in a drawer somewhere! But Tom swears by his Pentel Graph Gear 500, a mechanical pencil that creates a lovely thin line, is easily erasable, and never needs sharpening, which is handy when you are traveling and have lost your pencil sharpener! I confess, I find myself stealing his pencil more often than I'd care to admit, and owe him a few packs of lead replacements at this point. So take your pick – or try both. We learn by experimenting. I was just painting in Colombia and didn't use a pencil at all, just took my time establishing washes of color, and finding my way without a line to guide me. You can also paint in color blocks, and add your line later! Alternatively, the fine line of the Pentel mechanical pencil is nice for establishing a light line which you might go over later in pen, and then can easily erase. Extra leads and erasers are available at Blick.com
The Eraser:
I rarely erase, but when I do I prefer a white vinyl eraser like the Alvin. It doesn't leave pink marks like red rubber erasers can do, and doesn't gouge the paper, which is so important when you are working in delicate washes of watercolor.
The Brushes:
I swear by Aquaflow Water Brushes, 3 for under $4.00. Cheap, easy to use (you just take off the brush head, squeeze them under water, and then twist the brush head back on, voila!) They don't leak, and when you want the brush to get wet you simply squeeze the barrel of the tube, which moistens the brush head, rub it against the half pan in your paint box, and you're off and running. It's handy to keep tissues or paper towels at hand when traveling anyway, and useful for cleaning off the brush with a quick wipe before switches colors. I also like to travel with one or two traditional watercolor brushes. You don't need a lot for quick sketching work. I'm happy with the Robert Simmons Synthetic Mix #8, Short Handle. Though I prefer Sable vs. Synthetic, the price can be prohibitive. So here's a compromise, the Robert Simmons Synthetic Mix mix of natural and synthetic fibres. Short handle is easier for traveling, the #8 refers to the size (not too big, not too fine), and the Round refers to the shape of the brush, good for many purposes. Tom recommends also buying a Flat, and I've added a Robert Simmons Flat Wash 1/2″ to the list for your consideration. Really, with three water brushes and a round and a flat you've got your brushes covered. If you find you need more, you can buy more on the road! After all, that's half the fun of traveling! Shopping for new art supplies!
The Water Bottle and Water Cup:
You'll most likely have a disposable water bottle at hand and any one will do as a water source for your watercolor painting. But the one I'm recommending also contains an atomizer function, which is handy for maintaining a moist surface for your watercolor painting. Try the Holbein Atomizer Bottle – it carries 2 ounces of water, is under $3.00, and won't get confused for your drinking water. You can use your paint box palette as a reservoir for holding your water for brush dipping, or even your plastic water bottle cap, but a collapsible watercolor cup is a fun accessory too, and if you want to have your bases covered I recommend the Faber Castell Collapsible Water Cup, around $6.00.
The Note Book
For our free-writing sessions at Spannocchia, I've found that a simple spiral bound notebook is the way to go. Too pretty and you get self-conscious about what you are writing! Bring a cheap notebook for our daily writing sessions, or buy a simple lined composition book (Blick has a nice version with the Pacon Primary Composition Note Book)
The Tote Bag
Now all you need is a place to carry it all! No doubt you have a tote bag of some sort at home that will serve you just fine. If not, I hear good things about the multi-sized and multi-colored Walker Bags (www. walkerbags.com) or try this Alvin Prestige Mesh bag 12'x 16″ with handles and an outside zippered pouch. I usually put everything I need in one zipper pouch and drop it into my day bag, along with my Sketch Book, i.d., and some spending money. I carry an oversized bag for this purpose, limiting the content to my art pouch, sketch book, wallet, glasses, a day-to-night scarf, and phone.
NOTE: If you opt to purchase EVERYTHING on this list you should come in around $150 and have everything you need for our Awaken The Artist Within Trip, or any travel journey on which you wish to paint and sketch and write. Many of these items may already exist in some form in your life – take a look around and improvise! That's half the fun anyway!
https://www.dickblick.com/lists/blicku/0JC6XPLT0MS1K/publicview/